SANY Concrete Mixer Wear Parts
SANY Concrete Mixer Wear Parts
1.Supply Sany Concrete Mixer Wear Parts
Model:JS500/JS1000/JS1500/JS2000A/JS2000D/JS3000A/JS2000CK/JS3000F/JS3000D/JS4500/HZS120E/HZS180A etc.
2.Material:(Extra)High Chrome,Nodular Cast Iron,Casting Steel,45# steel
3.Professional Perfomance Mixer Wear Parts Supplier
4.LFC Process
Sany Concrete Mixer Wear Parts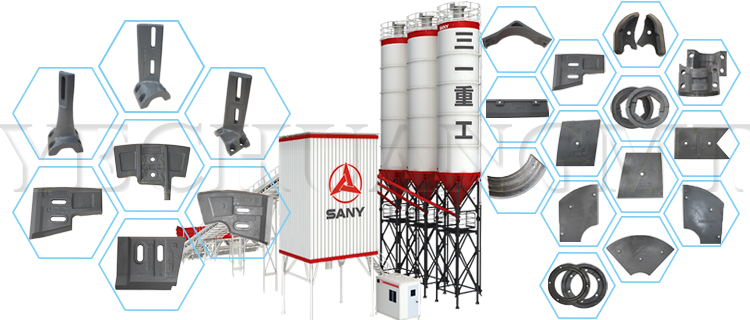 Specifications

1.Supply Sany Concrete Mixer Wear Parts
Model:JS500/JS1000/JS1500/JS2000A/JS2000D/JS3000A/JS2000CK/JS3000F/JS3000D/JS4500/HZS120E/HZS180A etc.
2.Material:(Extra)High Chrome,Nodular Cast Iron,Casting Steel,45# steel
3.Professional Perfomance Mixer Wear Parts Supplier
4.LFC Process
Business Ability and Scope
Material:Ductile casting iron,gray cast iron,stainless steel,carbon steel,low alloy steel,high alloy steel,hardfacing tungsten carbide, Composite Ceramics etc.
Process:clay sand casting,furan resin sand casting,shell mold casting,water-glass sand casting,lost foam casting(EPC or LFC)
Application:Sicoma mixer wear parts,SANY mixer wear parts,ZOOMLION mixer wear parts,XCMG mixer wear parts,BHS mixer wear parts,Liebherr mixer wear parts,Eirich mixer wear parts,Teka mixer wear parts, etc.
Blades, scrapers ,arm guards and wear liners are the most frequently replaced parts of a mixer. Our casting steel,hard-faced tungsten carbide wear parts will help reduce the amount of time (money) you spend on your mixer.
Chemical Data
Nodular Cast Iron QT500-7(for Arms-Spacers-Couplings)
Chemical Composition

C

Si

Mn

S

P

Mg

RE

3.6~3.8

2.5~2.9

0.6

0.025

0.08

0.03~0.05

0.03~0.05
Mechanical Properties

Hardness(HBS)

Strength of Extension σb (MPa)

Yield Strength σ0.2(MPa)

Elongation δ(%)

170~230

≥500

≥320

≥7
High Chromium Cast Iron(for Blades-Scrapers-Liners)
Main Chemical Composition(%)

C

Si

Mn

Cr

S

P

Mo

Cu

Ni

1.7~3.2

0.3~1.2

0.3~1.0

10-28

≤0.10

≤0.10

≤3.0

≤1.2

≤2.5
Mechanical Properties

Hardness(HRC)

AK(J/cm ²)

Flexural Strength ak N.M/CM2

Micro Structure

58~64

≥2.5

>700

M+C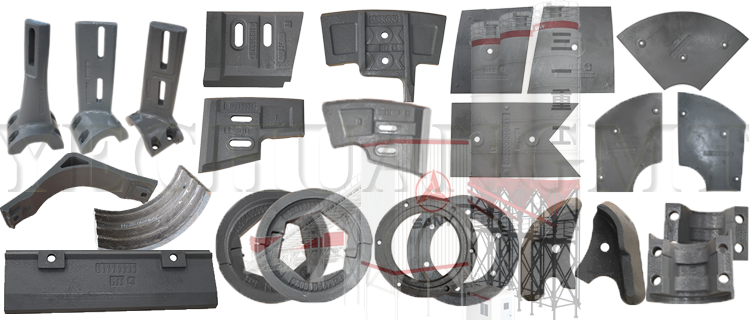 | | | | | | | | | |
| --- | --- | --- | --- | --- | --- | --- | --- | --- |
| S NO. | Part Name | JS500 | JS1000 | JS1500 | JS2000 | JS3000 | JS3000F | JS4500 |
| 1 | Central Blade | 8 | 8 | 8 | 8 | 12 | 12 | 12 |
| 2 | Left Blade | 4 | 2 | 4 | 4 | 4 | 6 | 4 |
| 3 | Right Blade | 2 | 2 | 2 | 2 | 2 | 2 | 2 |
S NO.

Part Name

JS500

JS1000

JS1500

JS2000

JS3000

JS3000F

JS4500

1

Wear Plate

(Type'T')

12

16

16

16

16

16

16

2

Wear Plate

(Type'P')

18

24

40

32

48

48

48
Production Process & Facilities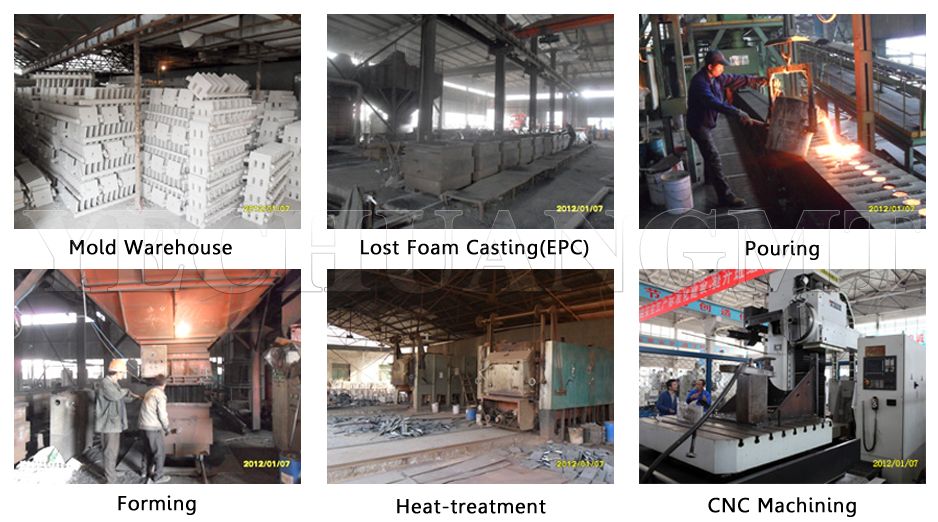 Testing Equipment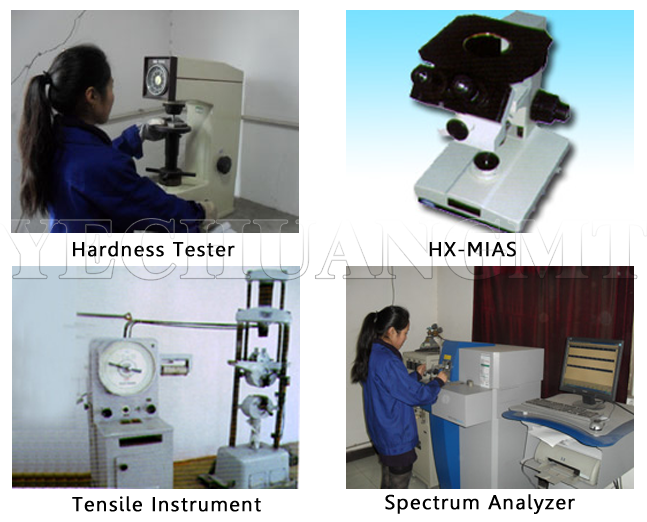 Package & Delivery